We're giving away 50 'admit-two' passes to the advance screening on Thursday, October 16th at Cinemark Palace on the Plaza. Please be aware before you sign up–the screening is a late one, starting at 10:00pm!!
[youtube Q2jAEoBz6RY nolink]
Based on the popular videogame, Mark Wahlberg is "Max Payne." Max Payne is a maverick cop–a mythic anti-hero–determined to track down those responsible for the brutal murders of his family and partner. Hell-bent on revenge, his obsessive investigation takes him on a nightmare journey into a dark underworld. As the mystery deepens, Max is forced to battle enemies beyond the natural world and face an unthinkable betrayal.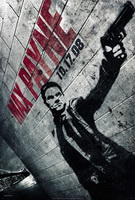 If you are able to fill out the form below, the tickets will be mailed to your house. Please do not sign up more than once, and don't try to be all tricky with multiple email accounts and addresses.  Also, if the screening sells out, be sure and keep checking back at this post. Often times, Scene-Stealers sitegoers will let you know if they aren't using their tickets! If you are one of the lucky 50 winners, please remember to get there early. These screenings are often overbooked. Your pass will have more details on this. Good luck!
cforms contact form by delicious:days