Do you want a pair of free passes to see WARRIOR Thursday, Sept. 8 ?
The screening is at the Screenland Armour (408 Armour Rd. North Kansas City), Thursday Sept. 8 at 7:30pm. Instructions on how to get your free passes is below!
Synopsis: Rising stars Tom Hardy and Joel Edgerton command the screen as two estranged brothers facing the fight of a lifetime­ in Lionsgate's WARRIOR, a moving, inspirational action drama from acclaimed director Gavin O'Connor (MIRACLE). Haunted by a tragic past, Marine Tommy Conlon (Hardy) returns home for the first time in fourteen years to enlist the help of his father (Nick Nolte) to train for "Sparta," the biggest winner-takes-all event in the sport of mixed martial arts. A former wrestling prodigy, Tommy blazes a path toward the championship while his brother, Brendan (Edgerton), an ex-fighter-turned teacher, returns to the ring in a desperate bid to save his family from financial ruin. But when Brendan's unlikely, underdog rise sets him on a collision course with the unstoppable Tommy, the two brothers must finally confront each other and the forces that pulled them apart, facing off in a soaring, soul-stirring, unforgettable climax that must be seen to be believed. A rousing ode to redemption, reconciliation and the power of the human spirit, WARRIOR is also a moving testament to the enduring bonds of family.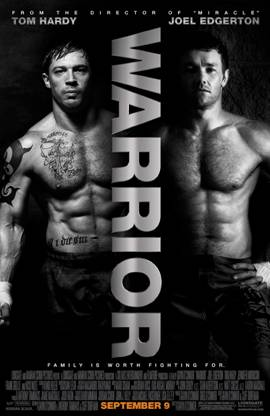 MOVIE SCREENING INFORMATION
INSTRUCTIONS
Goto: www.gofobo.com/rsvp
Winners will need to register.
Code is
STEALG2XK
Each code will admit 1 member and 1 guest to the screening per e-mail
address.
If you have trouble downloading passes, please go to Gofobo
Customer Service Support:
Phone: (866) 372-0272
Email: support@gofobo.com
Remember to get there early. Screenings are often overbooked to ensure a full house.