We have 50 'admit-two' passes for the new Mike Myers comedy "The Love Guru," co-starring Justin Tiberlake, Jessica Alba, and Verne Troyer. If you want one, all you gotta do is be one of the first 50 to fill out the form below and your pals at Scene-Stealers will hook you up! The screening is Tuesday, June 17 at AMC Ward Parkway (8600 Ward Pkwy, Kansas City, MO 64111) at 7:30pm.
[youtube HLY9aC-C3Zk nolink]
(Note: This is the same time as the "Get Smart" screening we just gave away passes for, so if you have tickets to that, you won't be able to attend this as well. It's just one of the laws of physics. Sorry.)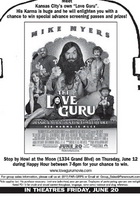 If you aren't one of the first 50, never fear, there is a bar night at Howl at the Moon Thursday June 12 between 7-8pm, where more tickets will be given away!
The first 50 people to fill out the form below will get a pass mailed to them. If you are one of the lucky 50 winners, please remember to get there early. These screenings are often overbooked. Your pass will have more details on this. Good luck!
This screening is all SOLD OUT!
No more submissions accepted at this time.