PLAY THE SCENE-STEALERS "IRON MAN" SCAVENGER HUNT! You probably already know this, but this is a big, big summer movie. Rather than getting the normal 50 free passes, we only have 10 passes (each are admit two) to give away for the advance screening of "Iron Man" on Tuesday, April 29 at 7:30 pm at AMC Olathe Studio 30 (119th & I-35). Instead of giving away passes to the first 10 that sign up, your pals at Scene-Stealers have devised a little scavenger hunt on the fine pages of your favorite website (that's ours!). Read below for instructions on how to play. All correct entries received will be entered for the drawing for advance screening passes to "Iron Man," starring Robert Downey, Jr., Jeff Bridges, and Gwyneth Paltrow.
[brightcove 1442372066 nolink]
HOW TO PLAY:The Scavenger Hunt will require the use of our site search engine, located in the upper right hand portion of each page.
When you see a clue, type the answer into the search engine.
One of the pages that comes up will have your next clue on it.
It may not be the first or second page you click on, so make sure you look at them all.
The clues will be photos, found in the bottom right-hand corner of the correct pages only.
Next to the photo will be a lowercase caption/question that you must answer.
Type your answer in the search engine and move on to the correct next page.
There are 10 clues before you get to the final answer.
Once you have the final answer, click the link back to this giveaway page and fill out the form, adding your FINAL CORRECT ANSWER.
All entries with the correct answer will be entered to win one of 10 passes and you will receieve an email notifying you that you are registered to win the tickets.
Hint: All answers must be spelled correctly.
Hint: Type all answers in the search engine in lowercase only.
Hint: If you see a page you've already been to after searching, you haven't looked at them all yet.
Hint: Your first clue is at the bottom right hand side of this page.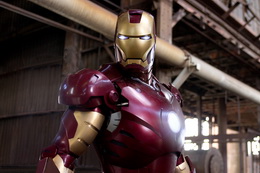 If you are one of the lucky 10 winners, please remember to get there early. These screenings are often overbooked. Your pass will have more details on this. One way to guarantee that not only will you get a good seat, but a guaranteed seat is to come dressed like billioanire Tony Stark or his alter ego, Iron Man. I'll let the publicist explain:
"We are encouraging everyone in attendance to dress as Tony Stark or Iron Man. The first 50 people in line who are dressed like this will receive VIP seating. *Note* If you are with a guest and your guest is not dressed up, your guest will not be eligible to sit in VIP."
Wow. They are serious. So are we. Here's your chance to win free advance tickets to this exciting screening. Go forth and hunt, and remember to have fun.
ALL ENTRIES MUST BE IN BY THURSDAY APR 24!!
This contest is over and winners are being notified! Thanks for playing!
Also, please remember how important it is that you enter all personal info in correctly, otherwise we can't tell you when you've won!
No more submissions accepted at this time.