We have an autographed poster of "The Hurt Locker," signed by director Kathryn Bigelow and star Jeremy Renner and we want you to have it.
If you want it, all you have to do is fill out the form below. We'll have a random drawing on Monday, Aug. 10 to determine the winner. This poster is the genuine article, provided by the studio.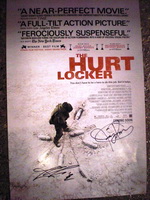 Open to residents of the U.S. 16+. Good luck!
cforms contact form by delicious:days