Alright, Scene-Stealers readers—it's time to do another texting giveaway for a free advance screening!
We have advance passes to see THE MUSIC NEVER STOPPED on Wednesday, March 16th at 7:00PM at the AMC Studio 30 and we have some passes to give away!
Synopsis: Based on the case study "The Last Hippie" by Dr. Oliver Sacks, M.D. (Awakenings), it chronicles the journey of a father and son adjusting to cerebral trauma and a lifetime of missed opportunities. Through the music that embodied the generation gap of the 1960s, and working with music therapist Dianne Daly (Julia Ormond), the film weaves the heartwarming progress of Henry (J.K. Simmons) and Gabriel (Lou Taylor Pucci). With Gabriel unable to shed the beliefs and interests that caused their physical and emotional distance, Henry must learn to embrace his son's choices and try to connect with him through music. The film features music from Bob Dylan, The Grateful Dead, The Beatles, The Rolling Stones, Crosby, Stills & Nash and Buffalo Springfield.
Here's how to win:
Text the word MUSICIAN, a space and your zip code to 43549 for a chance to win a complimentary mobile pass for two to see THE MUSIC NEVER STOPPED.
The studio will randomly draw winners from all entries on Tuesday March 15. Winners will simply show their winning text message at the door for admittance to the screening.
There is no additional charge for texting.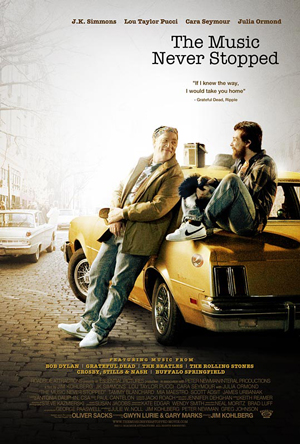 Good luck!