From the host of HBO's "Real Time" and the director of "Borat" comes this new documentary that examines the state of religion in the world today. It opens on October 3, and if you are one of the first 50 people to sign up below, you will win one 'admit-two' pass to the advance screening Tuesday, Sept. 30 at 7:30pm at the Cinemark Palace on the Plaza. Here's the trailer for "Religulous."
[youtube ZCzpPKSJL70 nolink]
From the studio: The documentary RELIGULOUS follows political humorist and author Bill Maher ("Real Time With Bill Maher," "Politically Incorrect") as he travels around the globe interviewing people about God and religion. Known for his astute analytical skills, irreverent wit and commitment to never pulling a punch, Maher brings his characteristic honesty to an unusual spiritual journey.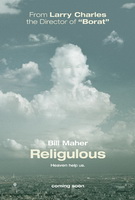 If you are one of the lucky 50 winners, you will get an email confirming that your name is on the guest list at the door. This is a last-minute screening, so we will not be sending out passes in the mail. You may, however, print out your confirmation email if you want to wave it around at the usher when you show up! Please remember to get there early. These screenings are often overbooked. Good luck!
No more submissions accepted at this time.