We have advance screening passes to see TOP FIVE and we want you to have them!
The screening will take place on Tuesday, December 9th at 7:30pm at Cinemark Merriam. To win tickets, enter the random drawing at this link.
Opening Date:  Friday, December 12, 2014
Official Site:  www.TopFiveMovie.com
Facebook: www.facebook.com/TopFiveMovie
Twitter: @TopFiveMovie  #TopFiveMovie
Rating: Rated R for strong sexual content, nudity, crude humor, language throughout and some drug use.
Synopsis:
Pulsing with the rhythm of his greatest stand-up, Chris Rock's TOP FIVE takes things to the next level, reveling in the high and the low, and blending a star-studded comedic romp with an irresistible romance.  TOP FIVE digs under the surface of show business, politics, rap, and the exigencies of being black and famous today—holding it all up to the light in the way only Chris Rock can. Mingling echoes of Woody Allen and Dick Gregory with the energy of Kanye West and Jay Z, TOP FIVE is an original and radically new kind of American movie. Written, directed , and starring Chris Rock, TOP FIVE tells the story of New York City comedian-turned-film star Andre Allen, whose unexpected encounter with a journalist (Rosario Dawson) forces him to confront the comedy career—and the past—that he's left behind.  Starring Chris Rock, Rosario Dawson, Gabrielle Union,  Cedric The Entertainer, JB Smoove, Tracy Morgan, Kevin Hart,  Anders Holm, Jay Pharaoh, Michael Che, Sherri Shepherd,  Leslie Jones.  The film is produced by Scott Rudin and Eli Bush.  The Co-Producers are Shawn "Jay Z" Carter and Kanye West; the Executive Music Producer is Questlove.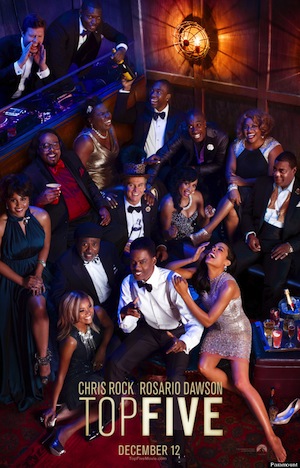 Good luck!