We have advance passes to see the new movie YOUR HIGHNESS starring James Franco, Natalie Portman, and Danny McBride and we want you to have them!
The screening is Tuesday, April 5 at the AMC Mainstreet at 7:30pm.
All you have to do is fill out the form below and winners will be picked at random on Sunday, April 3.
Synopsis: Throughout history, tales of chivalry have burnished the legends of brave, handsome knights who rescue fair damsels, slay dragons and conquer evil. But behind many a hero is a good-for-nothing younger brother trying just to stay out of the way of those dragons, evil and trouble in general. Danny McBride and James Franco team up for an epic comedy adventure set in a fantastical world-Your Highness. As two princes on a daring mission to save their land, they must rescue the heir apparent's fiancée before their kingdom is destroyed.
Remember to get there early; these screenings are often overbooked to ensure a full house!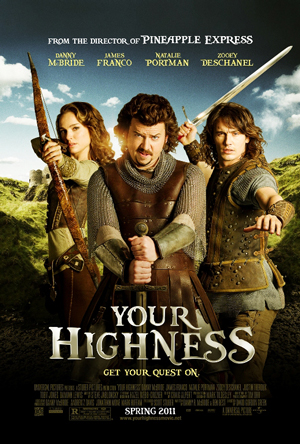 Good luck!
cforms contact form by delicious:days