We have advance passes to see TRANSFORMERS: AGE OF EXTINCTION in 3D on Wednesday, June 25 at 7:30 PM at Cinemark Merriam and we want you to have them!
To win, you have to make a custom image incorporating the Transformers and Kansas City together. All images that qualify will be eligible to win, and a panel of esteemed scene-stealers judges with determine the winners, so be creative!
1. Create/Photoshop a custom image of your own.
2. Upload it to Imgur or any place that will give your image a live link
3. Copy the URL in the form below and fill out your name, email
Synopsis: TRANSFORMERS: AGE OF EXTINCTION begins after an epic battle left a great city torn, but with the world saved.  As humanity picks up the pieces, a shadowy group reveals itself in an attempt to control the direction of history…while an ancient, powerful new menace sets Earth in its crosshairs.  With help from a new cast of humans (led by Mark Wahlberg), Optimus Prime and the Autobots rise to meet their most fearsome challenge yet.  In an incredible adventure, they are swept up in a war of good and evil, ultimately leading to a climactic battle across the world.
Website: www.TransformersMovie.com
Opening Date: Friday, June 27, 2014
Facebook: www.facebook.com/transformersmovie
Twitter: @Transformers  #TransformersMovie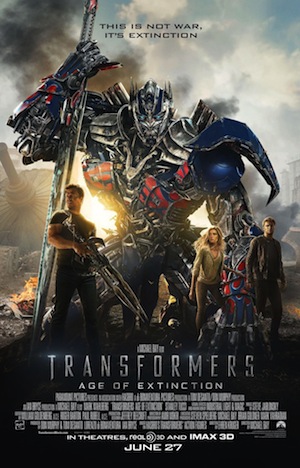 Good luck!
No more submissions accepted at this time.