We have advance passes to see  THE WOLF OF WALL STREET in Kansas City and we want you to have them!
The screening is Thursday, December 19th at Cinemark Palace at the Plaza at 7:00 PM.
All you have to do is find an image that illustrates the movie's tagline: Money. Power. Women. Drugs.
Fill out the form below and include the link to your image. The winners will be picked randomly from all who submit a valid image!
Official Website: TheWolfOfWallStreet.com
Facebook: facebook.com/TheWolfOfWallStreet
Twitter: @TheWolfofWallSt #TheWolfOfWallStreet
Opening Date: Wednesday, December 25, 2013
Rating: Rated R for sequences of strong sexual content, graphic nudity, drug use and language throughout, and for some violence.
Synopsis: Revered filmmaker Martin Scorsese directs the story of New York stockbroker Jordan Belfort (Leonardo DiCaprio).   From the American dream to corporate greed, Belfort goes from penny stocks and righteousness to IPOs and a life of corruption in the late 80s.  Excess success and affluence in his early twenties as founder of the brokerage firm Stratton Oakmont warranted Belfort the title – "The Wolf of Wall Street."
Money.  Power.  Women.  Drugs.  Temptations were for the taking and the threat of authority was irrelevant.  For Jordan and his wolf pack, modesty was quickly deemed overrated and more was never enough.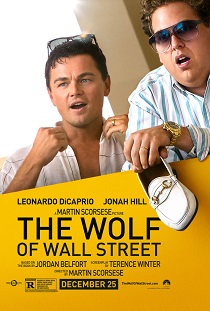 Good luck!
No more submissions accepted at this time.