We have passes to see the new comedy THE TO-DO LIST on Wednesday, July 24 at 7:00pm at the AMC Town Center 20 and we want you to have them!
All you have to do is go to
www.gofobo.com/rsvp and enter this code for a chance to win two passes: STEAL2JGQ
Synopsis: Featuring an all-star comedy cast including Aubrey Plaza, Johnny Simmons, Bill Hader, Alia Shawkat, Sarah Steele, Rachel Bilson, Christopher Mintz-Plasse, Donald Glover, Scott Porter, Andy Samberg, Connie Britton and Clark Gregg, THE TO DO LIST is a comedy about close friends and a special summer project, loosely inspired by the real-life adventures of first-time writer/director Maggie Carey. Set in 1993, valedictorian Brandy Klark wants to shed her uptight image before college, so she assembles a to do list of all the "activities" she missed out on in high school. Quickly realizing that she's way out of her depth, Brandy solicits her best friends, older sister and burnt-out boos for their help and advice. If the group is going to complete the list by September they'll need plenty of imagination and very open minds.
Rated: "R"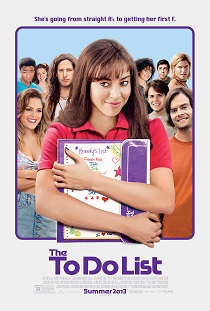 Good luck!