We have 25 'admit-two' passes to give away for the new Tony Scott remake of "The Taking of Pelham 123," starring Denzel Washington and John Travolta. The screening is Thurs. June 11 at AMC Studio 30 (119th & I-35) at 7:30pm.
We will have a random drawing on Wed. June 3 to determine the 25 winners, and the winning passes will be mailed on that day. Just fill out the info below, and good luck!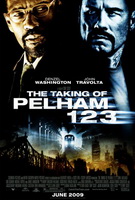 In "The Taking of Pelham 1 2 3," Denzel Washington stars as New York City subway dispatcher Walter Garber, whose ordinary day is thrown into chaos by an audacious crime: the hijacking of a subway train. John Travolta stars as Ryder, the criminal mastermind who, as leader of a highly-armed gang of four, threatens to execute the train's passengers unless a large ransom is paid within one hour. As the tension mounts beneath his feet, Garber employs his vast knowledge of the subway system in a battle to outwit Ryder and save the hostages. But there's one riddle Garber can't solve: even if the thieves get the money, how can they possibly escape?
This film has been rated R by the Motion Picture Association of America for violence and pervasive language.
Remember to get there early, as these screenings are often overbooked. Your pass will have more info on this. Good luck!
cforms contact form by delicious:days