We have advance passes to see THE PURGE: ANARCHY on Tuesday, July 15th at Screenland Armour at 7:30 PM and we want you to have them!
All you have to do to enter is fill out the form below to be registered for a random drawing of winners the day before the screening.
Synopsis: The New Founders of America invite you to celebrate your annual right to Purge in THE PURGE: ANARCHY. Returning alongside writer/director/producer James DeMonaco to produce the sequel to 2013's sleeper hit are Blumhouse Productions' Jason Blum (Paranormal Activity and Insidious series), alongside Sébastien K. Lemercier (Assault on Precinct 13, Four Lovers) and Platinum Dunes partners Michael Bay (Pain & Gain, Transformers franchise), Brad Fuller (The Amityville Horror, A Nightmare on Elm Street) and Andrew Form (The Texas Chainsaw Massacre, Friday the 13th).
Website:  http://blumhouse.com/film/thepurgeanarchy
Opening Date: Friday, July 18, 2014
Facebook: www.facebook.com/thepurgemovie
Twitter: @UniversalHorror  #PurgeAnarchy
Rating: Rated R for strong disturbing violence, and for language.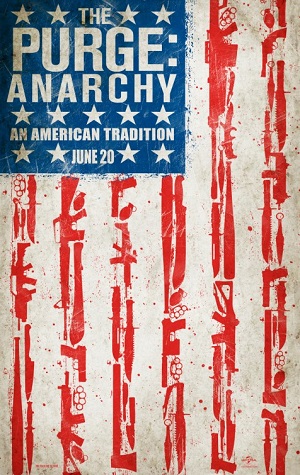 Good luck!
No more submissions accepted at this time.