We have advance screening passes to see THE FIVE-YEAR ENGAGEMENT starring Jason Segel and Emily Blunt, and we want you to have them!
The screening is Tuesday, April 24th at 7:30 PM at Screenland Armour.
Synopsis:
The director and writer/star of Forgetting Sarah Marshall reteam for the irreverent comedy The Five-Year Engagement.  Beginning where most romantic comedies end, the new film from director Nicholas Stoller, producer Judd Apatow (Knocked Up, The 40-Year-Old Virgin) and Rodney Rothman (Get Him to the Greek) looks at what happens when an engaged couple, Jason Segel and Emily Blunt, keeps getting tripped up on the long walk down the aisle.  The film was written by Segel and Stoller.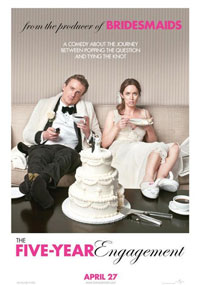 Good luck!
No more submissions accepted at this time.