We have advance passes to see THAT'S MY BOY Tuesday, June 12 at 7:30 PM at AMC Town Center 20 and we want you to have them!
All you need to do is fill out the form below and upload a funny picture of your father (imgur is a good site to use for this) for a chance to win passes to THAT'S MY BOY in Kansas City.
Synopsis: While still in his teens, Donny (Adam Sandler) fathered a son, Todd (Andy Samberg), and raised him as a single parent up until Todd's 18th birthday. Now, after not seeing each other for years, Todd's world comes crashing down on the eve of his wedding when an uninvited Donny suddenly shows up. Trying desperately to reconnect with his son, Donny is now forced to deal with the repercussions of his bad parenting skills.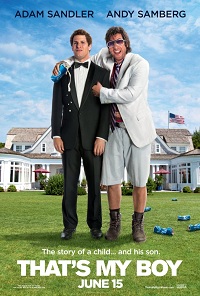 Remember to get there early, these screenings are often overbooked to ensure a full house.
Good luck!
No more submissions accepted at this time.