We have passes to see TEENAGE MUTANT NINJA TURTLES in 3D  on Wednesday, August 6 at Cinemark Merriam at 7:30 PM and we want you t0 have them!
All you need to do to enter to win our random drawing is to go to the TNMT site, customize your own photo and send us the link!

Website: www.teenagemutantninjaturtlesmovie.com
Opening Date: Friday, August 8, 2014
Facebook: www.facebook.com/TMNT
Twitter: @TMNTMovie  #TMNTMovie
Rating: Rated PG-13 for Sci-fi action violence.
Synopsis: The city needs heroes.  Darkness has settled over New York City as Shredder and his evil Foot Clan have an iron grip on everything from the police to the politicians.  The future is grim until four unlikely outcast brothers rise from the sewers and discover their destiny as Teenage Mutant Ninja Turtles.  The Turtles must work with fearless reporter April O'Neil (Megan Fox) and her wise-cracking cameraman Vern Fenwick (Will Arnett) to save the city and unravel Shredder's diabolical plan.  Based on the Teenage Mutant Ninja Turtles Characters Created by PETER LAIRD and KEVIN EASTMAN with a Screenplay by JOSH APPELBAUM & ANDRÉ NEMEC and EVAN DAUGHERTY, Producer MICHAEL BAY (the blockbuster Transformers franchise) and director JONATHAN LIEBESMAN (Wrath of the Titans) bring Teenage Mutant Ninja Turtles, the popular franchise that has captivated audiences of all ages for decades, into the 21st century.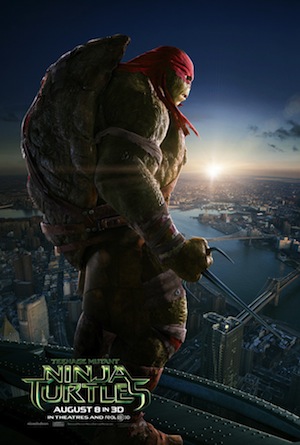 Good luck!
No more submissions accepted at this time.