We have passes to see the new Lionsgate horror film YOU'RE NEXT on Wednesday, August 21 at Cinemark Merriam at 7:30 PM and we want you to have them!
All you have to do is go to Gofobo.com/RSVP  and enter STEAL0XWY
or use this direct link:  http://l.gofobo.us/4Id6jXG1
Winners who register will be chosen at random!
SYNOPSIS: One of the smartest and most terrifying films in years, YOU'RE NEXT reinvents the genre by putting a fresh twist on home-invasion horror. When a gang of masked, ax-wielding murderers descend upon the Davison family reunion, the hapless victims seem trapped…until an unlikely guest of the family proves to be the most talented killer of all.
U.S. Release Date: August 23, 2013
Official Site: www.yourenextfilm.com
Official Facebook Page: www.facebook.com/yourenextthemovie
Official Twitter Page: www.twitter.com/lionsgatehorror  #YoureNext
Official Instagram Page: www.instagram.com/youre_next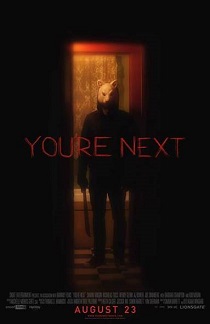 Good luck!