We have advance passes to see YOUNG ADULT  starring Charlize Theron and Patton Oswalt in Kansas City and we want you to have them!
We also have a badass YOUNG ADULT prize pack for the lucky winner with the best photo and best answer to our uncomfortable high school question!
The screening is Thursday, December 15 at AMC Mainstreet at 7:30pm.
One lucky winner will also get a prize pack containing a shot glass, t-shirt, poster, and YOUNG ADULT coaster for the bitter, overgrown teenager in your life.
Synopsis: Academy Award® winner Charlize Theron plays Mavis Gary, a writer of teen literature who returns to her small hometown to reclaim her happily married high school sweetheart (Patrick Wilson). When returning home proves more difficult than she thought, Mavis forms an unusual bond with a former classmate (Patton Oswalt) who hasn't quite gotten over high school, either. "Young Adult" reunites Jason Reitman, Academy Award® nominated director of "Juno," and Academy Award® winning screenwriter, Diablo Cody.
To win:
Send us a link to your worst high school photo.
Now explain your photo. Tell us what high school clique or group you belonged to (and never left)!
All answers may be published on the site after winners are announced!
To include your original photo in the contest, simply enter the URL in the text box below. You can use any photo-sharing site to get a URL, including Imgur. Only one winner will be picked for the prize pack.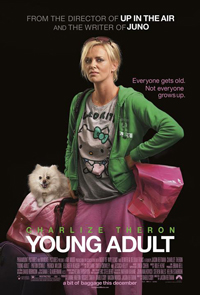 Prizes:
Good luck!
No more submissions accepted at this time.