We have advance passes to see WORLD WAR Z on Tuesday June 18 at the Screenland Armour at 7:30 PM and we want you to have them.
All you need to do is tell us what five items you would take with you on "Z-Day." Winners will be chosen randomly from those who list five items they'd take with them!
Opening Date:  Friday, June 21, 2013
Official Site:  www.WorldWarZMovie.com
Rating:  Rated PG-13 for intense frightening zombie sequences, violence and disturbing images.
Synopsis: A former UN investigator (Brad Pitt) is thrust into the middle of trying to stop what could be the end of the world.  Worldwide destruction sends him around the globe seeking clues about what they are fighting and what it will take to defeat it, as he tries to save the lives of billions of strangers, as well as his own beloved family.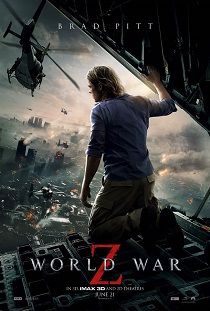 Good luck!
cforms contact form by delicious:days