We have passes to see the new Danny Boyle thriller TRANCE on Tuesday, April 9 at Glenwood Arts Theatre at 7:30pm and we want you to have them!
All you have to do is enter here or go to www.gofobo.com, rsvp, and enter this code:  STEAL8ZED
Synopsis
Academy Award® winning director Danny Boyle crafts a wildly twisting mind puzzle exploring identity, madness and perception via the altered state of hypnotic trance.  Between the razor-thin lines of our dreams, desires and darkest impulses, our everyday realities vanish, leaving only the question of who or what can be trusted.
In TRANCE, Simon (James McAvoy), a fine art auctioneer, teams up with a criminal gang to steal a Goya painting worth millions of dollars.  After suffering a blow to the head during the heist, he awakens to discover he has no memory of where he hid the painting.  When physical threats and torture fail to produce answers, the gang's leader Franck (Vincent Cassel) hires hypnotherapist Elizabeth Lamb (Rosario Dawson) to delve into the darkest recesses of Simon's psyche.  As Elizabeth begins to unravel Simon's broken subconscious, the line between truth, suggestion, and deceit begin to blur.
MPAA Rating:   Rated R – sexual content, graphic nudity, grisly images, violence and language
Running Time: 104 minutes
The official movie site is: www.trancethemovie.com
The Facebook page is: www.facebook.com/trancethemovie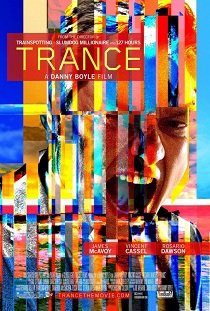 Good luck!