We have free passes to an advance screening of THE WATCH on Tuesday, July 24th at 7:30 PM at Cinemark Palace on the Plaza and we want you to have them!
All you need to do is fill out the form below and add a web image of a celebrity who you think is secretly an alien!
(Put the URL in the proper field –use Imgur if you need to upload one — and you're entered!)
Synopsis:
Four everyday suburban guys (Ben Stiller, Vince Vaughn, Richard Ayoade, and Jonah Hill) come together to form a neighborhood watch group, but only as an excuse to escape their humdrum lives one night a week.  But when they accidentally discover that their town has become overrun with aliens posing as ordinary suburbanites, they have no choice but to save their neighborhood — and the world — from total extermination.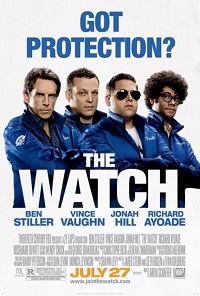 Good luck!
No more submissions accepted at this time.