We have advance passes to see THE GAMBLER Thursday, December 18 at 7:30pm at Screenland Armour and we want you to have them!
Enter the random drawing for passes here.
Opening Date:  Thursday, December 25, 2014
Official Site:  www.thegamblermovie.com
Facebook: www.facebook.com/TheGamblerMovie
Twitter: @TheGamblerMovie  #TheGambler
Rating: Rated R for language throughout, and for some sexuality/nudity.
Synopsis: Jim Bennett (Academy Award®-nominee Mark Wahlberg) is a risk taker.  Both an English professor and a high-stakes gambler, Bennett bets it all when he borrows from a gangster (Michael Kenneth Williams) and offers his own life as collateral.  Always one step ahead, Bennett pits his creditor against the operator of a gambling ring (Alvin Ing) and leaves his dysfunctional relationship with his wealthy mother (Academy Award®-winner Jessica Lange) in his wake.  He plays both sides, immersing himself in an illicit, underground world while garnering the attention of Frank (John Goodman), a loan shark with a paternal interest in Bennett's future.  As his relationship with a student (Brie Larson) deepens, Bennett must take the ultimate risk for a second chance…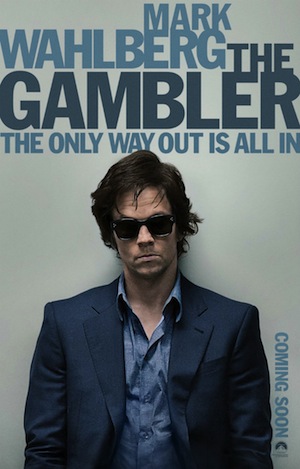 Good luck!