We have advance passes to see STOKER, the new film by OLDBOY director Park Chan-Wook on Tuesday, March 19 at Tivoli Cinema at 7:30pm and we want you to have them!
All you have to do is fill out the form below and we'll have a random drawing to determine the winners!
Synopsis: STOKER is a hypnotic and stylized psychological thriller, which follows India (Mia Wasikowska) after her father's death with her emotionally unstable mother Evelyn (Nicole Kidman) and the arrival of her charming and mysterious Uncle Charlie (Matthew Goode), who although suspects has ulterior motive, becomes increasingly infatuated with until a last-minute twist proves she has an agenda of her own.
The official movie site is: www.foxsearchlight.com/stoker
A micro site for the film: www.letterstoindia.com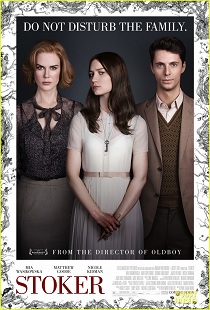 Good luck!
No more submissions accepted at this time.