We have advance passes to see the much-anticipated  STAR TREK INTO DARKNESS in Kansas City on Wednesday, May 15 at 9 PM at the Cinemark Merriam and we want you to have them!
Since STAR TREK is such a long-lasting iconic property, we wanted to have fun this this contest, so in order to win passes, you must fill out the form below and make a customized STAR TREK image that somehow incorporates Kansas City.
That means you can Photoshop a STAR TREK image with whatever KC connection you can dream up (funny stuff usually works best), and we will award the best customized images with passes to see STAR TREK INTO DARKNESS free before its even released in theaters! We'll pick winners on Monday May 13.
1. Create an image
2. Upload it to Imgur
3. Copy the URL in the form below and fill out your name, email
Above all, have fun!
Synopsis: In the wake of a shocking act of terror from within their own organization, the crew of The Enterprise is called back home to Earth. In defiance of regulations and with a personal score to settle, Captain Kirk leads his crew on a manhunt to capture an unstoppable force of destruction and bring those responsible to justice. As our heroes are propelled into an epic chess game of life and death, love will be challenged, friendships will be torn apart, and sacrifices must be made for the only family Kirk has left: his crew.
Opening Date:  Friday, May 17, 2013
Official Website:  www.StarTrekMovie.com
Rating:  Rated PG-13 for intense sequences of sci-fi action and violence.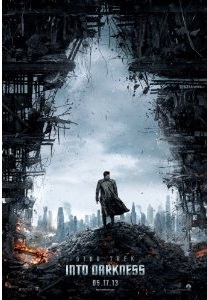 Good luck!
No more submissions accepted at this time.