We have advance passes to see SILENT HOUSE in Kansas City and we want you to have them!
The screening of SILENT HOUSE is Monday, March 5 at 8:30 PM at AMC Mainstreet.
To register for the random drawing to determine the winners of two passes each, just fill out the form below and we'll draw winners on Friday March 2.
SILENT HOUSE is a uniquely unsettling horror thriller starring Elizabeth Olsen as Sarah, a young woman who finds herself sealed inside her family's secluded lake house. With no contact to the outside world, and no way out, panic turns to terror as events become increasingly ominous in and around the house. Directed by filmmaking duo Chris Kentis and Laura Lau, SILENT HOUSE uses meticulous camera choreography to take the audience on a tension-filled, real time journey, experienced in a single uninterrupted shot.
RATING: Rated R for disturbing violent content and terror.
www.WhyIsThisHappeningToMe.net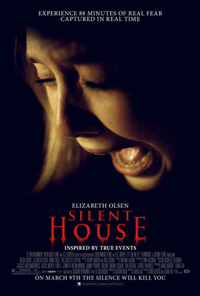 Good luck!
No more submissions accepted at this time.