We have advance passes to see an advance screening of PREMIUM RUSH in Kansas City and we want you to have them!
The screening of PREMIUM RUSH will be held on Thursday, August 23 at 7:30PM at the Cinemark Palace at the Plaza.
To win passes, all you have to do is fill out the form below and a random drawing will determine the winners!
Synopsis: A New York bike messenger (Joseph Gordon-Levitt) is given an envelope by a young woman at an uptown Manhattan college and is told he has 90 minutes to deliver it to an address in Chinatown. Complications ensue when an undercover police office appears and demands the envelope on special grounds. The truth, hidden motivations, and the life-and-death stakes on all sides are revealed through a series of flashbacks as the cop and the messenger engage in a length-of-Manhattan chase, racing against time after the messenger discovers the precious nature of the envelope's slender contents.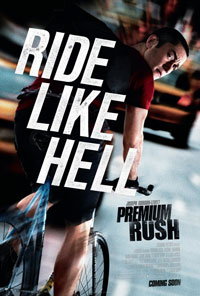 Good luck!
No more submissions accepted at this time.