We have advance passes to a screening of PARANORMAL ACTIVITY 4 in Kansas City and we want you to have them!
The advance screening of PARANORMAL ACTIVITY 4 is Thursday, October 18th at 7:00 PM at Cinemark Merriam.
To win two passes, simply fill out the form below and a random drawing will be held to determine the winners.
Synopsis: The Paranormal Activity film series continues with this fourth entry from Paramount Pictures and returning directors of the previous outing, Henry Joost and Ariel Schulman.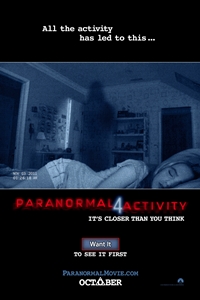 Good luck!
No more submissions accepted at this time.