We have advance passes to see PARANORMAL ACTIVITY 3 in Kansas City and we want you to have them!
The screening is Thursday October 20 at 9:00PM at Cinemark Merriam.
This screening has been CHANGED to Wednesday October 19 at 9:00PM at Cinemark Merriam!!!
Anybody who fills out the form below will be registered to win a pair of passes to the screening (decided by a random drawing), but those who include their own spooky camera image will be entered into the contest to win a PARANORMAL ACTIVITY 3 prize pack.
The prize pack includes: The first two PARANORMAL ACTIVITY movies on DVD, a T-shirt, baseball cap, sticker, and poster!
To include your original photo in the contest, simply enter the URL in the text box below. You can use any photo-sharing site to get a URL, including Imgur. Only one winner will be picked for the prize pack.
Synopsis: Producers are not revealing much of the story, however it seems that it will be an origin story set in the 1980s.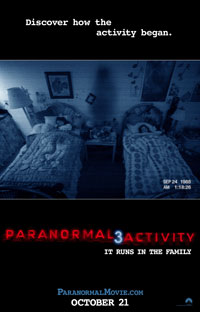 Before you see Paranormal Activity 3 in theaters, be sure to check out how the story began with Paranormal Activity and Paranormal Activity 2, both now available on DVD and Blu-ray.
http://www.paranormalmovie.com/
No more submissions accepted at this time.