We have advance passes to see the new Robert Rodriguez movie MACHETE KILLS and we want you to have them!
The screening is on Wednesday, October 9th at 9:00 PM at Alamo Drafthouse Mainstreet.
All you have to do is fill out the form below and answer one question to be entered into a random drawing for the tickets.
MACHETE KILLS is a bloody revenge fantasy. In your fantasy, who would Machete take revenge on?
SYNOPSIS:
MACHETE KILLS is an action-packed thrill ride about the adventures of legendary secret agent Machete Cortez (Danny Trejo). In his latest mission, Machete is recruited by the U.S. President (Carlos Estevez) to stop a crazed global terrorist (Mel Gibson) from starting a nuclear war. With a bounty on his head, Machete faces death at every turn from an all-star cast of deadly assassins. Breaking all the rules, visionary director Robert Rodriguez leads this star-studded ensemble on one of the wildest adventures to save the world ever captured on film!
OPENING DATE: Friday, October 11, 2013
MPAA RATING: Rated R For strong bloody violence throughout, language and some sexual content.
www.MacheteKills.com
www.Facebook.com/MacheteKills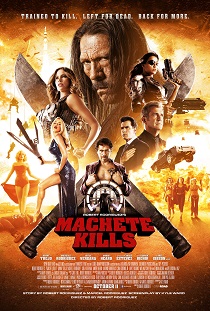 Good luck!
No more submissions accepted at this time.