We have advance passes to see JURASSIC PARK in 3D on Tuesday, April 2 at Cinemark Merriam at 7pm and we want you to have them!
All you need to do is fill out the form below, list your favorite 3D movie, and we'll have a random drawing to determine the winners.
Synopsis: Steven Spielberg's groundbreaking masterpiece has been re-mastered into a state-of-the-art 3D format, introducing the three-time Academy Award®-winning blockbuster to a new generation of moviegoers and allows longtime fans to experience the world he envisioned in a way that was unimaginable during the film's original release.
Opening Date:  Friday, April 5, 2013
Official Site:  www.JurassicPark.com
Rating:  Rated PG-13 for intense science fiction terror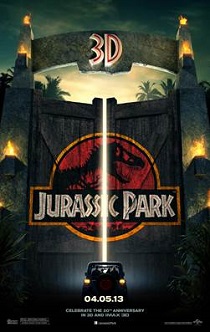 Good luck!
No more submissions accepted at this time.