We have advance passes to see JACK REACHER in Kansas City and we want you to have them!
JACK REACHER screens Monday, December 17 at Cinemark Merriam at 7:00 PM.
To win, answer the trivia questions below correctly, and the top 50 winners with correct answers will be chosen at random!
Synopsis: From The New York Times bestselling author Lee Child comes one of the most compelling heroes to step from novel to screen – ex-military investigator Jack Reacher (Tom Cruise).
When a gunman takes five lives with six shots, all evidence points to the suspect in custody. On interrogation, the suspect offers up a single note: "Get Jack Reacher!" So begins an extraordinary chase for the truth, pitting Jack Reacher against an unexpected enemy, with a skill for violence and a secret to keep.
Official Site:  JackReacherMovie.com
Opening Date:  Friday, December 21, 2012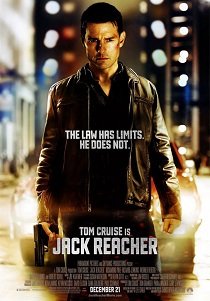 Answer these 3 questions correctly and fill out the form below to win!
Good luck!
cforms contact form by delicious:days