We have advance passes to see Adam Sandler's new movie JACK AND JILL in Kansas City and we want you to have them!
The screening is Thursday, November 10 at the AMC Independence at 7:30 PM.
All you need to do to enter to win is fill out the form below and we'll have a random drawing that week to determine the winners.
Synopsis: Jack Sadelstein (Adam Sandler) is a successful advertising executive in Los Angeles with a beautiful wife (Katie Holmes) and kids, who dreads one event each year: the Thanksgiving visit of his identical twin sister Jill (also Adam Sandler). Jill's neediness and passive-aggressiveness is maddening to Jack, turning his normally tranquil life upside down.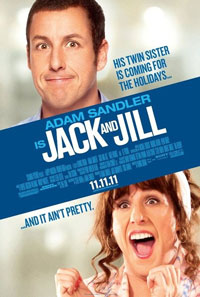 Good luck!
No more submissions accepted at this time.