We have advance passes to see the new comedy HOT PURSUIT Tuesday, May 5 Cinemark Palace on the Plaza at 7:30 pm and we want you to have them!
Enter the random drawing to win a pair of advance passes here.
Facebook.com/HotPursuitMovie
#HotPursuit
Synopsis: HOT PURSUIT is a hilarious road trip/buddy comedy starring Reese Witherspoon and Sofia Vergara.
Witherspoon plays an uptight, by-the-book cop who is responsible for transporting Vergara – the glamorous, out-spoken wife of a drug lord – across Texas to testify in court. The comedic chemistry between these polar opposites as they race across the state with cops and bad guys in "hot pursuit" will have audiences laughing out loud – especially those who love female-driven physical comedies such as "The Heat," "Bridesmaids" and "Miss Congeniality."
Directed by one of today's best comedy directors, Anne Fletcher ("The Proposal," "27 Dresses," etc.), the film is a great kick off for the summer movie season. The film also stars Rob Kazinsky, John Carroll Lynch and Richard T. Jones, with entertaining turns by popular comedians Jim Gaffigan and Mike Birbiglia.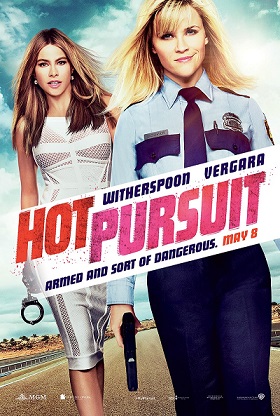 Good luck!