We have advance passes to see HANSEL & GRETEL: WITCH HUNTERS on Thursday, January 24 at 8:00 PM at AMC Studio 30 and we want you to have them!
All you have to do is fill out the form below and we'll have a random drawing to determine the winners!
Synopsis: After getting a taste for blood as children, Hansel (Jeremy Renner) and Gretel (Gemma Arterton) have become the ultimate vigilantes, hell bent on retribution. Now, unbeknownst to them, Hansel and Gretel have become the hunted, and must face an evil far greater than witches…their past.
Official Site: HanselAndGretelMovie.com
Opening Date: Friday, January 25, 2013
Rating: Rated R for strong fantasy, horror, violence, and gore, brief sexuality/nudity and language.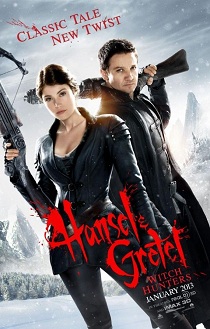 Good luck!
No more submissions accepted at this time.