We have advance passes to see GROWN UPS 2 on Wednesday, July 10 at 7:30 PM at the AMC Independence and we want you to have them!
All you have to do is enter here
or go to
www.gofobo.com/rsvp and enter this code:  STEALH1BP
The all-star comedy cast from Grown Ups returns (with some exciting new additions) for more summertime laughs. Lenny (Adam Sandler) has relocated his family back to the small town where he and his friends grew up. This time around, the grown ups are the ones learning lessons from their kids on a day notoriously full of surprises: the last day of school.
Cast:
Adam Sandler
Kevin James
Chris Rock
David Spade
Salma Hayek
Maya Rudolph
Maria Bello
Nick Swardson
This film has been rated PG-13 by the MPAA for CRUDE AND SUGGESTIVE CONTENT, LANGUAGE AND SOME MALE REAR NUDITY.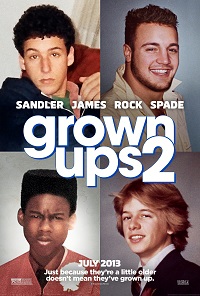 Good luck!