We have advance passes to see GONE in Kansas City and we want you to have them!
The screening of GONE  is Thursday February 23 at the AMC Barrywoods 24 at 7:30pm.
To register for the random drawing to determine the winners of two passes each, just fill out the form below and we'll draw winners on Monday February 20.
In the new suspense thriller GONE, Jill Parrish (Amanda Seyfried) comes home from a night shift to discover her sister Molly has been abducted. Jill, who had escaped from a kidnapper a year before, is convinced that the same serial killer has come back for her sister. Afraid that Molly will be dead by sundown, Jill embarks on a heart-pounding chase to find the killer, expose his secrets and save her sister.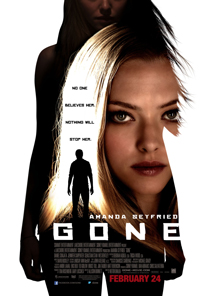 No more submissions accepted at this time.