We have free advances passes for two to see FOOTLOOSE in Kansas City and we want you to have them.
Better yet, we want you to dance for them.
To win a huge prize pack and two VIP passes to see FOOTLOOSE on October 11 at AMC Olathe Studio 30 at 7:30pm, all you have to do is show us your hottest (or lamest) dance moves in a short video.
Here's what you need to do: Make a video with your cell phone, camera, or whatever — quality doesn't matter, its moves we're looking for — and upload it to YouTube. Include the link in the form below.
Winners will be drawn from random from those who don't make a video, but EVERYONE who makes a video will win passes to the show, and the grand prize winner will receive VIP reserved seats, a set of FOOTLOOSE buttons, a pair of FOOTLOOSE sunglasses, and a FOOTLOOSE tote bag!
Synopsis: Writer/Director Craig Brewer (Hustle & Flow, Black Snake Moan) delivers a new take of the beloved 1984 classic film, Footloose. Ren MacCormack (played by newcomer Kenny Wormald) is transplanted from Boston to the small southern town of Bomont where he experiences a heavy dose of culture shock. A few years prior, the community was rocked by a tragic accident that killed five teenagers after a night out and Bomont's local councilmen and the beloved Reverend Shaw Moore (Dennis Quaid) responded by implementing ordinances that prohibit loud music and dancing. Not one to bow to the status quo, Ren challenges the ban, revitalizing the town and falling in love with the minister's troubled daughter Ariel (Julianne Hough) in the process.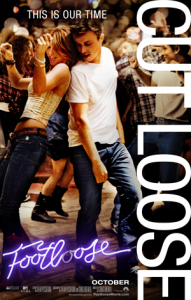 Make your video and enter the link in the form below. Remember, all entries win passes and one wins the grand prize! Entries will be embedded on a page after the contest to showcase all your hot moves. Good luck!