We have advance passes to see the new film ESCAPE PLAN on Tuesday, October 15 at 7:30 PM at the AMC Independence 20 and we want you to have them!
All you need to do is click this link and register to win in a random drawing.
ESCAPE PLAN
Directed by MIKAEL HÅFSTRÖM
Screenplay by MILES CHAPMAN and ARNELL JESKO
Story by MILES CHAPMAN
Produced by MARK CANTON, RANDALL EMMETT, REMINGTON CHASE, ROBBIE BRENNER and KEVIN KING TEMPLETON
Starring SYLVESTER STALLONE, ARNOLD SCHWARZENEGGER, JIM CAVIEZEL, CURTIS "50 CENT" JACKSON, SAM NEILL, VINNIE JONES, FARAN TAHIR with VINCENT D'ONOFRIO and AMY RYAN
One of the world's foremost authorities on structural security agrees to take on one last job: breaking out of an ultra-secret, high-tech facility called "The Tomb." Deceived and wrongly imprisoned, Ray Breslin (Sylvester Stallone) must recruit fellow inmate Emil Rottmayer (Arnold Schwarzenegger) to help devise a daring, nearly impossible plan to escape from the most protected and fortified prison ever built. ESCAPE PLAN is the first pairing of action legends Sylvester Stallone and Arnold Schwarzenegger in leading roles, and co-stars Jim Caviezel, Curtis "50 Cent" Jackson, Vinnie Jones, Vincent D'Onofrio and Amy Ryan.
In theaters October 18, 2013.
Official Website: EscapePlanMovie.com
Facebook: Facebook.com/EscapePlanMovie
Twitter: Twitter.com/EscapePlanMovie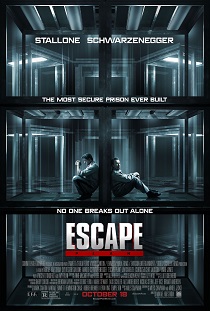 Click this link and register to win!
Good luck!