We have passes to see an advance screening of DESPICABLE ME 2 on Thursday, June 27 at Cinemark Merriam at 7:00 PM and we want you to have them!
All you have to do is fill out the form below and we will have a random drawing to determine the winners!
Opening Date:  Wednesday, July 3, 2013
Official Site:  www.DespicableMe.com  
Synopsis: Chris Meledandri and his acclaimed filmmaking team create an all-new comedy adventure featuring the return of (former?) super-villain Gru (Steve Carell), his adorable girls, the unpredictably hilarious Minions…and a host of new and outrageously funny characters.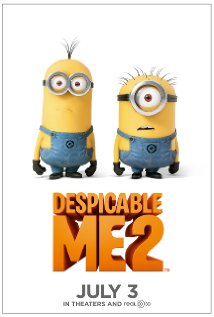 Good luck!
cforms contact form by delicious:days