We have advance screening passes to see CONCUSSION on Monday, December 21 at 7:30 PM at Cinemark Merriam, and we want you to have them!
Just enter the random drawing to win passes.
Will Smith stars in CONCUSSION, a thriller based on the incredible true David vs. Goliath story of American immigrant Dr. Bennet Omalu, the brilliant forensic neuropathologist who made the first discovery of CTE, a football-related brain trauma, in a pro player and fought for the truth to be known.  Omalu's emotional quest puts him at dangerous odds with one of the most powerful – and beloved – institutions in the world.
CONCUSSION has been rated PG-13 by the MPAA for the following reasons:  Thematic material including some disturbing images, and language
Official Hashtag: #ConcussionMovie
Facebook: @ConcussionMovie
Twitter: @ConcussionMovie
Instagram: @ConcussionMovie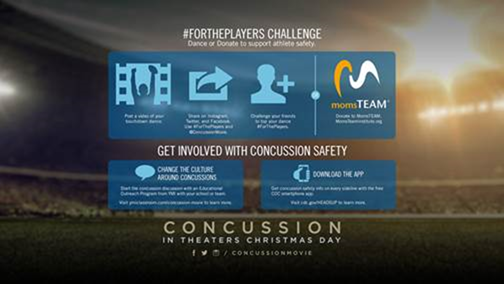 Good luck!