We have advance passes to see BEGIN AGAIN (from the director of ONCE) on Tuesday, June 24 7:00PM at the Tivoli Theater and we want you to have them!
All you have to do is visit GOFOBO.COM/RSVP and enter in the code STEAL6GCL to get registered to win two free passes!
Synopsis: The latest film from writer-director John Carney (ONCE), BEGIN AGAIN is a soul-stirring comedy about what happens when lost souls meet and make beautiful music together. Gretta (Keira Knightley) and her long-time boyfriend Dave (Adam Levine) are college sweethearts and songwriting partners who decamp for New York when he lands a deal with a major label. But the trappings of his new-found fame soon tempt Dave to stray, and a reeling, lovelorn Gretta is left on her own. Her world takes a turn for the better when Dan (Mark Ruffalo), a disgraced record-label exec, stumbles upon her performing on an East Village stage and is immediately captivated by her raw talent. From this chance encounter emerges an enchanting portrait of a mutually transformative collaboration, set to the soundtrack of a summer in New York City. The film is produced by Anthony Bregman at Likely Story, Tobin Armbrust of Exclusive Media and Judd Apatow at Apatow Productions.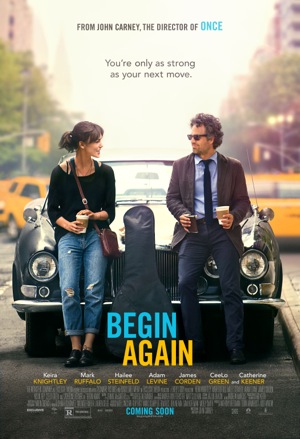 Good luck!