We have free advance passes to a Kansas City screening of the new comedy BAD TEACHER and we want you to have them!
All you need to do is fill out the contact info on the form below and tell us about the worst teacher you ever had. The best "worst" stories will win free passes!
BAD TEACHER, starring Cameron Diaz, Jason Segel, and Justin Timberlake, screens on Wed. June 22 at 7:30 PM at the AMC Town Center 20.
Synopsis: Some teachers just don't give an F. For example, there's Elizabeth (Cameron Diaz). She's foul-mouthed, ruthless, and inappropriate. She drinks, she gets high, and she can't wait to marry her meal ticket and get out of her bogus day job. When she's dumped by her fiancé, she sets her plan in motion to win over a rich, handsome substitute (Justin Timberlake) – competing for his affections with an overly energetic colleague, Amy (Lucy Punch). When Elizabeth also finds herself fighting off the advances of a sarcastic, irreverent gym teacher (Jason Segel), the consequences of her wild and outrageous schemes give her students, her coworkers, and even herself an education like no other.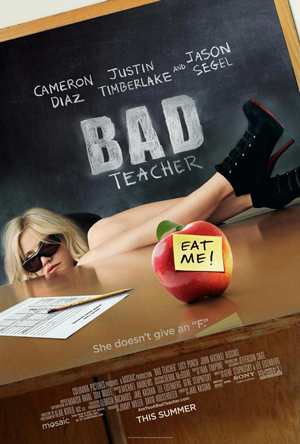 Good Luck!
cforms contact form by delicious:days