We have advance passes to see the new Aardman Productions movie ARTHUR CHRISTMAS in Kansas City and we want you to have them!
The screening is Tuessday, November 15 at the AMC Town Center 20 at 7:o0 PM.
All you need to do to enter to win is fill out the form below and we'll have a random drawing that week to determine the winners.
The 3D, CG-animated family comedy Arthur Christmas, an Aardman production for Sony Pictures Animation, at last reveals the incredible, never-before seen answer to every child's question: 'So how does Santa deliver all those presents in one night?' The answer: Santa's exhilarating, ultra-high-tech operation hidden beneath the North Pole. But at the heart of the film is a story with the ingredients of a Christmas classic – a family in a state of comic dysfunction and an unlikely hero, Arthur, with an urgent mission that must be completed before Christmas morning dawns. Cast: James McAvoy, Hugh Laurie, Jim Broadbent, Bill Nighy, Imelda Staunton, Ashley Jensen.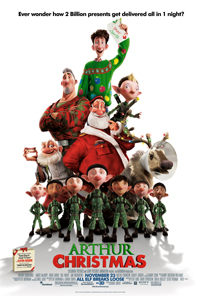 Good luck!
No more submissions accepted at this time.