We have passes for you and a guest to attend the advance screening of "Armored" on Thursday, December 3 at the AMC Town Center at 7:30 pm.
All you need to do is fill out the form below. We'll have a random drawing on Monday, November 30 to determine the winners.
A crew of officers at an armored transport security firm risk their lives when they embark on the ultimate heist against their own company. Armed with a seemingly fool-proof plan, the men plan on making off with a fortune with harm to none. But when an unexpected witness interferes, the plan quickly unravels and all bets are off. 
The movie stars  Matt Dillon, Jean Reno, Laurence Fishburne, Skeet Ulrich, and Columbus Short.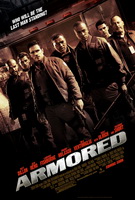 cforms contact form by delicious:days