We have advance passes to see ACT OF VALOR in Kansas City and we want you to have them!
The screening of ACT OF VALOR  is Tuesday February 21 at the AMC TOWN CENTER 20 at 7:30pm.
To register for the random drawing to determine the winners of two passes each, just fill out the form below and we'll draw winners on Monday February 20.
Synopsis: An unprecedented blend of real-life heroism and original filmmaking, Act of Valor stars a group of active-duty Navy SEALs in a powerful story of contemporary global anti-terrorism. Inspired by true events, the film combines stunning combat sequences, up-to-the minute battlefield technology and heart-pumping emotion for the ultimate action adventure.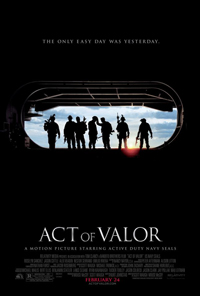 Good luck!
No more submissions accepted at this time.