We have advance movie passes to see RUSH on Wednesday, September 25 at Cinemark Palace at the Plaza at 7:30 PM and we want you to have them! All you have to do is fill out the form below and winners will be chosen and random and emailed!
Synopsis:
Set against the sexy and glamorous golden age of Formula 1 racing, Rush portrays the exhilarating true story of two of the greatest rivals the world has ever witnessed—handsome English playboy Hunt and his methodical, brilliant opponent, Lauda.  Taking us into their personal lives on and off the track, Rush follows the two drivers as they push themselves to the breaking point of physical and psychological endurance, where there is no shortcut to victory and no margin for error.  If you make one mistake, you die.
Official Website: www.RushMovie.com
Facebook: www.facebook.com/rushmovie
Twitter: @RushTheMovie #RUSH
Opening Date:  Friday, September 27, 2013
Rating:  Rated R for sexual content, nudity, language, some disturbing images and brief drug use.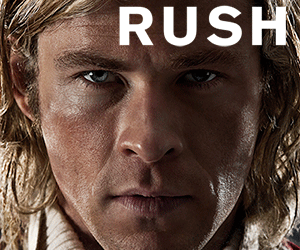 Good luck!
No more submissions accepted at this time.