We have a whole bunch of passes to see RANGO on Tuesday, March 1 at 6:30pm at AMC Olathe Studio 30 and we want you to have them!
First off, a couple of things: Each winner will get an admit-four pass so you can bring the family!
Secondly, the winners will be drawn the day before, on Monday Feb. 28, so if you can't go on a day's notice, don't enter!
SYNOPSIS: This animated film directed by Gore Verbinski stars the voice of Johnny Depp as the titular character: a pet chameleon who has lived his life thus far in the confines of a glass terrarium. In his fantasy life, Rango always thought of himself as a great hero, but when he actually leaves the tank for the first time, Rango discovers that living up to his daydreams isn't so easy. After winding up in an Old West style town called Dirt, the idealistic lizard puts on a brave face and makes himself the local sheriff. But as the other strange creatures that people the town take up the mantle of their own quasi-fictional identities (some of them more villainous than others), Rango becomes oddly embroiled in a Spaghetti Western style drama, with more pressure to save the day than he ever felt back in the fishbowl.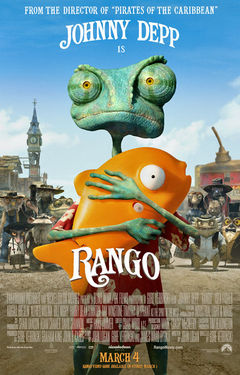 Just fill out the entry form below and winner will be chosen at random on Monday, Feb. 28! Good luck!
cforms contact form by delicious:days