The screening is set for Wed. Oct. 22 at the Olathe Studio 30 (119th & Strang Line) at 7:30pm and the first 50 people to sign up get free tickets! After you sign up, you will receive an email (in a day or two) with instructions on how to print off two 'admit-one' passes online.
[youtube A2Qu80hRoh4 nolink]
Edward Norton, Colin Farrell, Jon Voight and Noah Emmerich star in "Pride and Glory," a gritty and emotional portrait of a multi-generational police family who find themselves on opposite sides of an incendiary corruption scandal in the New York City Police Department. Four New York City cops are dead, killed in an ambush that has the entire police department on alert and on edge. With a cop killer on the loose and so much riding on the case, Chief of Manhattan Detectives Francis Tierney, Sr. (Jon Voight) asks his son, Detective Ray Tierney (Edward Norton), to lead the investigation. Reluctantly Ray takes over the case knowing the cops who were lost had served under his brother, Francis Tierney, Jr. (Noah Emmerich), and alongside his brother-in-law, Jimmy Egan (Colin Farrell). On the surface, it looked like a routine drug bust gone terribly, tragically wrong. But as Ray delves deeper into the case, he realizes someone had to have tipped off the drug dealers that the cops were coming. Someone on the inside. Worse, the evidence starts to point in an unthinkable direction: to his own brother and brother-in-law. As the questions mount, the case forces the family to choose between their loyalties to one another and their loyalties to the department.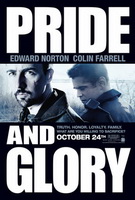 Please bring the pass to the screening, and remember to get there early. These screenings are overbooked to ensure a full house, and this one will be big, no doubt. Good luck!
cforms contact form by delicious:days