We have advance passes to see MADAGASCAR 3: EUROPE'S MOST WANTED on Saturday, June 2 at Cinemark Merriam at 10:30 AM and we want you to have them!
All you have to do is fill out the information below and you'll be entered into a random drawing for two passes to see the movie. Winners will be chosen on Tuesday May 29.
Synopsis: Alex the Lion, Marty the Zebra, Gloria the Hippo, and Melman the Giraffe are still fighting to get home to their beloved Big Apple and of course, King Julien, Maurice and the Penguins are all along for the comedic adventure. Their journey takes them through Europe where they find the perfect cover: a traveling circus, which they reinvent – Madagascar style.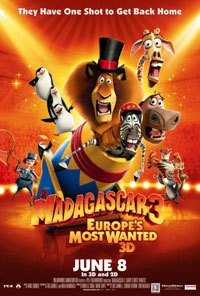 Good luck!
No more submissions accepted at this time.